Section Editors
Bennie H Jeng, MD
- Professor and Chair, Department of Ophthalmology and Visual Sciences, University of Maryland School of Medicine
Bennie H Jeng, MD
Professor and Chair, Department of Ophthalmology and Visual Sciences, University of Maryland School of Medicine
Editor's choice
Latest Videos
Video List based on Category on Node Page
Latest Videos
Chameen Samarawickrama outlines which patients traditionally benefit the most from Boston keratoprosthesis surgery and discusses the results of his recent study.
George Beiko gives his opinions on the current treatment options for corneal astigmatism, the use of femtosecond lasers and the most significant advances in toric intraocular lens design.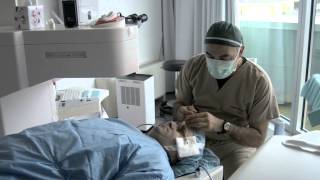 Dr. Roberto Pinelli from the Switzerland Eye Research Institute in Lugano presents the ultimate innovative non-surgical and painless technology to treat keratoconus. PiXL means Photorefractive Intra-stromal Cross-Linking and is the new generation of fast Cross-Linking which utilizes UV-A energy and ParaCel riboflavin to strengthen the collagen fibers inside the corneal tissue in order to avoid...